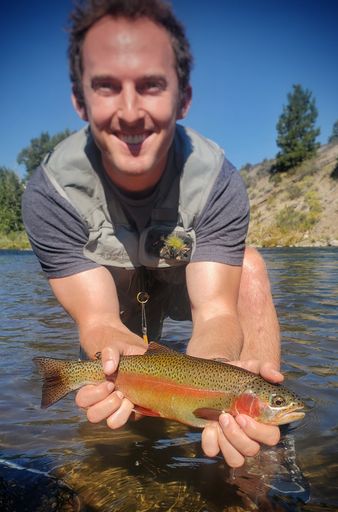 Not much has changed.  Cooler air at night has given us some better water temps and fishing this past week.  Another record breaking heat wave this weekend so keep a thermometer with you.  Mornings are still your best bet.  Not much bug life but plenty of chunky fish full of crayfish and stones.  Some of these fish are so full its hard to get them to eat.  Still getting plenty of nice fish on smaller bugs as well.  As always presentation is key.  ESN style will still get you the best numbers while indicator fishing hasn't been horrible either.  Early mornings start on the slower inside seems and work your way into the faster stuff as the sun settles on the water.  Sometimes a big fish will surprise you thats hanging out right in front of you.  
    This weekend is normally the last summer hurrah for most of us locals.  With schools still being shut down in most of California I see it staying fairly busy up to October.  This is the time I look forward to though.  Less work frenzy and more personal time to check the river out for myself as the fishing gets better.  If you're willing to embrace the cold, October and November can be great months for good numbers and bigger fish on this side of the river.   
    I'll be leaving town the 8th-16th.  Have bachelor party and wedding obligations the two following weekends.  Cramming a few guide trips in between so I'll give you the best report I can in 2 weeks.  For now enjoy the probable crazy holiday weekend and get up early to beat the heat and crowds.