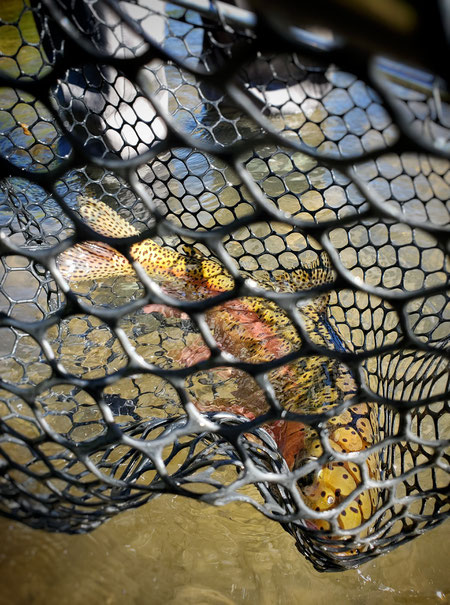 The time of year I never look forward to is now.  Heat waves, tons of fishing pressure, warm water, and smokey air.  August will always test you.  If you aren't fishing fast water with the right rig you are likely to catch nothing.  Things have definitely slowed down, but we're still hooking plenty of fish for Truckee River standards.  A lot of those fish aren't big, but out of nowhere you'll hook something that feels like a snag and it rips you a new one.  Some of the water you hook those fish in make them almost impossible to land.  Be ready to go down with them, and if everything magically aligns we will land that beast.
    I have a strict keep em' wet policy this time of year.  Can't stress enough how hard warm water temps can be on our fish.  I will continue addressing this issue in my reports until the warm water subsides.  My friends, fellow guides, and myself have seen quite a few dead fish recently.  This happens from fighting a fish to long and then mishandling it.  Carry a thermometer and quit fishing when waters temps reach 67+ degrees.  The fish are a lot more willing to eat in the mornings anyways.
    I've still been getting a lot of fish on smaller bugs but the bigger fish have been mostly on the bigger flies.  Nocturnal stones are officially doing their thing and the crayfish are molting like crazy.  Some of the fish are so full to a point they don't need to eat, so proper presentation of your flies is key.  High sticking is the best way to get that done right now.  You can still get it done on the indicator if you know how to legitimately set it up, but expect less success.  
    That's all for now.  Lets hope these fires are handled safely and quickly and cooler temps are in the near future.