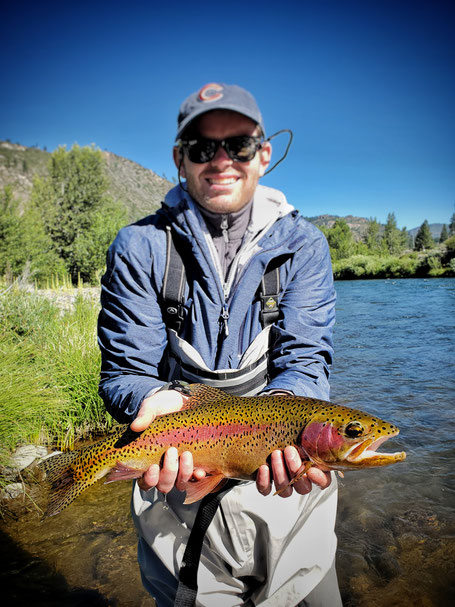 Great time to get out and catch a wide range of sizable fish.  Mornings and faster water will likely be your friend.  Drakes are long gone.  Now its time to throw heavy stoneflies and crustaceans. Use those with something small either trailing it with an indicator or above if ESN is your move.  Those smaller bugs right now are caddis, yellow sallies, and any variation of mayfly nymphs.  You need to get those flies down quick if you want success.  Longer leaders and a ton of weight if you're hitting deeper water, but thats always the case here.  Those big browns are hard to get this time of year, but expect a good amount of fired up rainbows.  
    If evening fishing is your thing you need to wait until almost dark to consistently see the fish rise.  Caddis, maybe a PMD, and yellow sallies will get those fish to slurp.  Been seeing a few grasshoppers flying around as well.  Always a fun call to get the hopper dropper rig going.  Just have a dropper or two that will get down quick.  
    Theres a ton of people out there.  Be respectful of other anglers and don't expect its ok to barge in on someones territory.   There's plenty of water to fish, so either ask or just move on.  Also tell those bait fishermen to kick rocks and that they're breaking the rules.   Pretty amazing how many bait dunking rigs my clients have been snagging this past month.  Drives me crazy when I find 80 feet of line just dangling behind a snag they spent no effort getting undone.  Clean up your trash and respect your surroundings.  Anyways... Enough of my rant and thanks for tuning in.  Go get em'.